FilmNerds Recommends: Hardcover Edition
With the Christmas season upon us, we decided to take a slightly different approach this month with our recommendations. Rather than give you our picks for the movies to see this month (I'll save you the time, see War Horse and Tintin), we decided to shock the world and suggest some of our favorite books about movies, titles that we think would be perfect stocking stuffers for the Film Nerd in your life. If you are interested in picking up any of the titles below, just click on the book cover to purchase the book on Amazon. Merry Christmas and happy reading, nerds!
Ben Stark's Picks
Film Production Theory by Jean-Pierre Geuens
I can unequivocally say that this book changed my life. I randomly picked it up one year from the University of Alabama's Gorgas Library before leaving town for Christmas break. Film Production Theory does not tell you how to make a film, does not dish on the personal lives of filmmakers, and does not give vicarious anecdotes for a young filmmaker to digest. To the contrary, this book is a hard-line intellectual look at exactly why we make films, and what it means to make films. Geuens examines most of the major stages in the making of a film, drawing from a well of philosophy, critical theory, and – most certainly – his own opinions. The biggest foot print this book left on my brain was its exhortation that the most unhealthy thing a filmmaker could do was to move to Hollywood. If someone is making the decision to be involved in any sort of movie-making, this is the first – possibly only – book they should read.
Directed by Steven Spielberg: Poetics of the Contemporary Hollywood Blockbuster by Warren Buckland

On the flip-side, here is a book that examines the films of one of the most powerful men in Hollywood. What makes this book special, however, is that it does not go into how personal details shaped the films of Spielberg, or what his process entails. Instead, author Buckland picks a handful of scenes from a few choice Spielberg films, and breaks down his directorial approach, from framing and pacing to blocking and lighting. By assuming Spielberg's mastery of film grammar, Buckland points out the amazing subtextual and "poetic" statements that Spielberg's style presents (or in some case, misses out on). This is one of the great apologetics books for the case of Spielberg-as-film-artist.

Hitchcock by Truffaut by Francois Truffaut

This might be the most widely accepted "great" film book. The Cahiers du cinema critic and eventual great filmmaker Francois Truffaut gets the chance to interview his hero, Alfred Hitchcock, and creates the essential Hitchcock commentary book. Like the aforementioned Spielberg book, this elevates and highlights Hitchcock's intentionality as a grammatical film master. This, along with The Films of Akira Kurosawa by Donald Richie, was my wife's present to me for our first Christmas together as a couple.
Craig Hamilton's Picks
Seen That, Now What? by Andrea Shaw
This is the perfect book for those folks out there who know what they like, but need recommendations for other films. Seen That, Now What? categorizes and cross-references films in a unique, pre-internet sort of way. The book was published in 1996, so Seen That, Now What? is coming from a world where the many choices that video rental stores provided now became overwhelming. Without Wikipedia to click away into oblivion, the film-loving masses needed something to provide them with not only a starting point, but a legitimate pathway to other great films. This book is designed specifically to give the best recommendations. Let's say Cleopatra (1963) left a bad taste in your mouth. Just look up Cleopatra in the index and it takes you to pages of suggestions from the 1960's, like: Doctor Zhivago, Spartacus, Becket, A Man for All Seasons, The Lion In Winter, Exodus and The Cardinal. If Terms of Endearment left you wanting more 80's drama, then a quick reference of that title provides the following suggestions: Ordinary People, On Golden Pond and Kramer vs. Kramer among many others.
American Movie Critics Edited by Phillip Lopate

This is a wonderful book that is about as dense as a brick, but is mainly meant to pick up and browse through over time. It's a collection of film reviews and essays from many of the legendary film critics and historians beginning in the mid 1920's during the transition to sound and coming all the way up to present day. It's absolutely fascinating to observe the evolution of film and film criticism throughout history. Not only that, but it's fun to see just how wrong a lot of the legendary critics were at times. Each entry has a short bio of the critic or context of the writing. Along with that is the actual review of a particular film or essay on a subject relating to film and the date that it was published. From essays on the emergence of the "Talkies" to how DVD's are changing viewing habits, these essays cover tons of ground. From Carl Sandburg to A.O. Scott, this collection spans everything from D.W. Griffith to David Fincher and it's an excellent book for any film critic's library.
"Have You Seen…?" by David Thomson

In his follow up to Biographical Dictionary of Film, film critic and historian David Thomson answers his most asked question, "What Should I See?" in this book of one page reviews for 1,000 alphabetized films. Alphabetical order is a good option because the films aren't grouped by genre or year. In the same opening you can read a review for Robert Altman's screen translation of the great Raymond Chandler novel, The Long Goodbye and Peter Jackson's masterpiece The Lord of the Rings Trilogy. Another opening contains the reviews of Michael Mann's The Last of the Mohicans and The Last Picture Show, written by the great Larry McMurtry. Another great thing about this book is that it ranges from films from 1895 to 2007. It's thick and full of great suggestions and it's a lot of fun just to sit down and leaf through.
Ben Flanagan's Picks
Making Movies by Sidney Lumet
The late great Sidney Lumet played a large role in molding my movie mind during freshman year at the University of New Orleans, where I read this book and watched several of his iconic films, including "Serpico," "Dog Day Afternoon" and "Network." Lumet pulls few punches in his retroactive accounts of time spent of nearly each set of every movie he's ever made, dating back to his first masterpiece, "12 Angry Men." In a nutshell, Lumet offers his best guess based purely on experience on, well, how to direct. That means talking to actors, picking the right lenses, composing shots, placing the lights, etc. It's technical, and might make your head hurt from time to time, but Lumet's honest portayal of the craft (which he insists it is) is truly fascinating. A MUST for future filmmakers.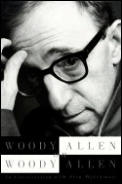 Woody Allen on Woody Allen Edited by Stig Bjorkman
During high school, Woody Allen became a virtual part of the family, whether we watched his films or read his prose books on a daily basis. When I got my hands on Stig Bjorkman's one-one-one Q&A book going movie by movie with the man himself, I didn't need much else. I still have trouble putting this book down. Going back and forth from set anecdote to stylistic approach, Woody goes into frank detail about nearly all of his films up to around 2000 in a wonderful conversation worth revisiting as each year passes. There are tons of Woody Allen interview books out there, plenty of them good, but this is definitely the gold standard.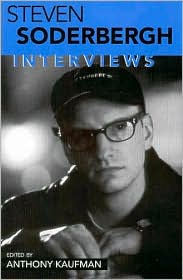 Steven Soderbergh: Interviews OR Getting Away With It Edited by Andrew Kaufman
Soderbergh became another Flanagan fixture in our high school and college days, mainly once again during freshman year in New Orleans, where I read this first book and attacked his filmography on DVD. I'd always heard of SEX, LIES & VIDEOTAPE but never saw it until I drove to a local rental store and finally saw what the fuss was about. While Soderbergh's stunningly mechanical and sometimes silly approach to the craft is well-represented in the films he makes, it's often even more enlightening just to hear his matter-of-fact attitude about what he does as an artist. Both in this book of interviews, which you'll fly through in an afternoon, and his Q&A with British director Richard Lester, you get a terrific peek into the mind of one of our greatest contemporary filmmakers, who sadly has plans to retire soon.
Leonard Maltin's 2012 Movie Guide by Leonard Maltin
Not as much a book about movies in the vein of these others, the Maltin guide is an annual purchase in our household, not because we rely on ol' Leonard's opinions on each film (the man hated BLADE RUNNER, for God's sake). But as a reference tool, you'll find fewer equals that aren't your IMDB app. Sometimes you just want to thumb through a brick of a book and learn the bare bones details of a film: The title, the year, the director, the actors, the plot and a fair-enough take on it. The perfect coffee table book.
Down and Dirty Pictures by Peter Biskind
Peter Biskind's often-electrifying account of the rise of independent film in the 1980s and 90s as well as that little studio that could, Miramax, and the Weinstein brothers took on Hollywood with their sleeves rolled up. After all, with weapons like a young and hungry Quentin Tarantino, you liked your chances. A sickeningly readable journey into the studio's birth and evolution with first-hand, detailed accounts of the competitive landscape of development, production and marketing with brilliant stories from all involved in each aspect.
Graham Flanagan's Picks
The Films of Steven Spielberg by Douglas Brode
This exceptional guide to the films of the world's most famous movie director should be a staple of any Film Nerd's bookshelf. Although it was last updated in 2000, it warrants a purchase (you can likely get it used for cheap) because of its insightful histories behind each of Spielberg's films. Brode takes a chronological look at each work, examining how the projects came to fruition with behind the scenes accounts of some of the challenges and hurdles faced by each production. Brode also does an excellent job of analyzing the themes common to Spielberg's movies. It also includes a healthy biographical section chronicling Spielberg's early career in independent production and television. After reading this book, you will definitely walk away with a healthier understanding and appreciation for the Beard.
My Autobiography by Charlie Chaplin
Writer, director, producer and star: Many consider Charlie Chaplin to be the first true auteur. He uses this bulky tome to chronicle his entire journey; from growing up in abject poverty in England all the way to fleeing the country that made him rich because of his alleged political affiliations. It's no surprise that one of history's great artistic geniuses is so impressively competent as a writer of prose. He displays an uncanny memory of his childhood, the era in which he discovered his talent for the stage: a talent so strong and unique that it prevented him from facing very much professional adversity at all. Even as a young, untested rookie, Chaplin belonged in a class all his own, often upstaging his older colleagues. Fans will no doubt cherish the main portion of the book: the one that goes into distinct detail about his many years in Hollywood. Chaplin gives a fascinating perspective on his films, often supplying harshly critical assessments of his own work that will baffle the fans that truly believe the master can do no wrong. One of the great movie autobiographies ever written, "My Autobiography" is absolutely essential for film fans.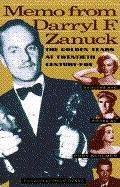 Memo from Darryl F. Zanuck Edited by Rudy Behlmer
I was all set to recommend George F. Custen's breezy biography of Darryl F. Zanuck (and I still do), but I stumbled upon this collection of correspondence from the 20th Century Fox chief and I admit I'm totally fascinated and definitely plan on checking it out over the holidays (hopefully Santa is reading this). Zanuck began as a producer at Warner Brothers and quickly soared through the ranks by producing profitable adult-oriented classics like Little Caesar, 42nd Street and I Am a Fugitive From a Chain Gang. He left in 1933 to head the Fox Studio, which he renamed 20th Century Fox, and subsequently laid the foundation for the studio that exists today as the distributor of the two highest-grossing movies of all time (Avatar & Titanic) and one of the most popular franchises of all time (Star Wars). This collection of memos written by Zanuck himself will no doubt serve as movie-crack for Film Nerds.
Spielberg, Truffaut and Me by Bob Balaban
Sorry to keep banging the Spielberg drum, but I can't make this list without including this invaluable peek into the daily routine of an actor working on a super-secret, highly-anticipated big studio tentpole circa 1977. Thanks to his ability to speak fluent French, Balaban landed the memorable role of Truffaut's interpreter in what would become Spielberg sci-fi classic Close Encounters of the Third Kind. Thankfully for us, the actor kept a detailed account of the experience and shared it with the world. Balaban's anecdotes about his time with Truffaut, as well as his observations of the French director's rapport with Spielberg, make this one of the greatest accounts of moviemaking that you're going to find on any reading list.
Roger Ebert's Book of Film by Roger Ebert

Film Nerds need to clear off some space on their bookshelves for this hefty brick of a book (800 pages): Roger Ebert's superb compilation of what he considers the best writing about film from the 20th century. We hear not only from Ebert's fellow film writers like Pauline Kael and Libby Gelman-Waxner, but also from filmmakers themselves with contributions from luminaries like Buster Keaton and Quentin Tarantino. Everything in this book will remind you of why you love movies and will likely make you love them even more.
Matt Scalici's Picks
Scorsese by Ebert by Roger Ebert
One of the great masters of American film is having an excellent year (critically, at least) but it's great to go back and explore what has been a pretty wild journey of a career. Ebert's book is a collection of both interviews he's done with Scorsese over the years as well as reviews of all his films, dating all the way back to Scorsese's senior project at NYU. This is a filmmaker that Ebert has clearly had a connection with from the very beginning and the book reveals as much about Ebert, one of the great critical voices we've ever had in American cinema, as it does about Scorsese.
The Annotated Godfather by Jenny M. Jones

For hardcore fans of Francis Ford Coppola's gangster masterpiece, this book is a must-have but even for a casual movie fan it's a great-looking and interesting coffee table book. Flip open to any page and you'll find Coppola's original screenplay surrounded by facts and tidbits about the screenwriting and production process as well as beautiful screen shots and set photos. It's like having a DVD commentary specifically for the screenplay itself and it's a fascinating and in-depth way to go deeper into one of the greatest films ever made.

BFI Classics: Back to the Future by Andrew Shail and Robin Stoate

The British Film Institute has an entire series of these small collections of essays on individual films ranging from artful classics to popular blockbusters. I just finished their book on Back to the Future and while some of the analysis is perhaps a bit of a stretch (exploring the Oedipal themes of the film) most of the topics touched on in the book are not only thoughtful and fascinating but also highly-researched and cited. This is as deep into the film as I imagine one could possibly go and yet they're able to do it in a relatively short, easy afternoon read. Great afternoon reading material for the true hardcore Film Nerd.