One Thing I'd Change About the Oscars – Part 2: Craig Hamilton
Academy Adjustments is a series of posts that will run up until the March 2 Academy Awards. Each of the Film Nerds will detail what single change they would make to the Oscars if they were put in charge of the Academy. You can see Part 1 here.
Today's post comes from Craig Hamilton.
STOP PERFORMING THE BEST SONG NOMINEES.
If I were in charge, you would never again see a performance of any of the Best Song nominees.  Not every song is performed every year, but most years, at least a few songs are performed from the best song category.  Since the Oscars feels like it has to act like the Tony's, there are always a few musical numbers performed throughout the broadcast that aren't the Best Song nominees.  In hindsight, these almost never work and they will certainly suffice without the inclusion of the Best Song nominees.  I can understand the need to liven up a show with music, but why tack on additional performances of songs that few people know?
Let's face it, unless it comes from a musical, the Best Song nominees are either a part of the opening or closing credits of their respected movies or they're practically a part of the score itself.  I'm not arguing getting rid of this category, even though I could, because it's evident that some years there shouldn't even be a category for Best Song.  In 2011, only 2 songs were nominated and really "Man or Muppet" was the obvious winner.  One couldn't help but feel like "Real in Rio" was a pity nomination to keep things interesting.   In fact, only twice in the last 5 years have there been 5 nominees for Best Song.  That's not counting this year, where there are 4 nominees.
And what's with this not performing all nominees?  Sounds a bit unfair doesn't it?  How do you know which to perform?  Sorry, Bombay Jayashri, but you can't perform "Pi's Lullaby" tonight because we got Adelle!  What if the song that wins the Oscar isn't performed while the losers are?  What a disaster!  Either all or none, I say.  Actually, none, I say.
Here's how much time would've been spent performing ALL of the songs had they all been performed over the last 5 years:
2008: 14 minutes 50 seconds               3 nominees
2009: 15 minutes 26 seconds               5 nominees
2010: 16 minutes 39 seconds               4 nominees
2011: 6 minutes 44 seconds                  2 nominees
2012: 17 minutes 11 seconds               5 nominees
That's an average of just over 14 minutes and that doesn't count the extra time that would inevitably be added on due to queuing up and applause and transitions and what have you.
You can do a lot with 14 minutes.  For one, you could make the show 14 minutes shorter.  Or you could add a category; maybe Best Lighting.  But you'd be better served using that time to broaden the setup of the tech categories.  You can use that time to enlighten the audience and viewers on just what all goes into Sound Mixing or Visual Effects.  Show us a clip of the Sound Editors in a room shoving wooden sticks into buckets of mud to get just the right sound of a barefoot Mesoamerican who's trying to keep his head.  Don't be afraid to split-screen that mug with actual footage from the film.  Play some behind-the-scenes footage of Roger Deakins filming a James Bond skyscraper fight scene on a Shanghai night.  These nuances are all part of what makes the films so great and it's all undeniably more interesting than hearing the Best Songs performed live.  What's that?  You think the techie stuff is boring?  What are you doing watching the Oscars?  What are you doing reading this?  I ban you from further readership!
You can find more from Craig at citizencraig.com, and be sure to follow him on Twitter (@citizen_craig), where he and his wife are staging scenes from the best films of 2013 with their one-year-old daughter, Beatrix. It's the cutest thing you'll ever see. Here she is as Theodore from HER: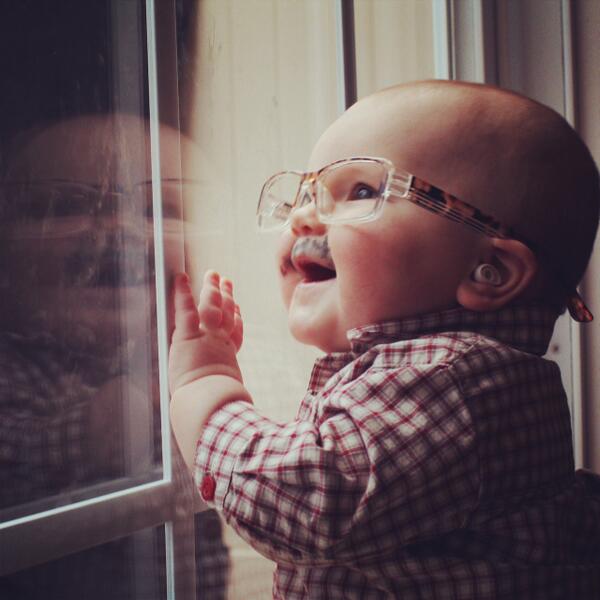 You can also find Bea's scenes (@BeaMovies) on Twitter and Instagram. Stay tuned to FilmNerds.com during the remainder of February for more Academy Adjustments!